I build interactive kinetic machines. Machines that are able to draw artwork. To control them, the machine must be operated by simple buttons while drawing. Then several motors move, which guide a pen over a paper via an arm construction. A playful experience, which lets the visitor participate in the process of art creation and usually meets with great enthusiasm and fascination.
the origin drawingmachine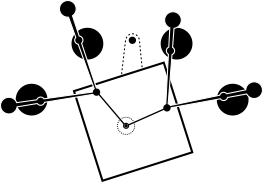 The origin drawing machine is where it all started. During my communication design studies at FH Aachen, I got involved in the topic of mechanical drawing. I attended a course on transferring the possibilities of physical computing into individualistic design, held by Prof. Oliver Wrede. The topic combined my interests in art and mechanical construction and led me to trying to create an interactive art machine myself.
first tests with Arduino – result was a fun drawing device
first tests with mechanical arm constructions
After some tests and many prototypes, I finished my first drawing machine by the end of the course. This venue also served as its first exhibition space, and it was later featured in the annual design fair hosted by the university.
While I was able to create many cool projects during that time, it was this drawing machine that held my interest like no other. It has opened me up to a new way of thinking about art, myself and the world around me. And it has given me the opportunity to share my art with others in a much more involved and intimate way. To this day, I love the way it confronts people directly with the process of creating art, and allows them to step into the creative process, rather than just consuming art as a visual medium.
here some drawings of the origin machine:
the traveling drawingmachine
When planning a bicycle trip through Italy, my friend Christoph and I came up with the idea to build a second, travel-sized drawing machine we could exhibit on markets along the way.We turned the idea into reality in 2016. 
The travel-sized drawing machine is smaller, easily portable, robust and can be powered by 100% green electricity, generated via hub dynamos while cycling.We took the machine on a six-week cycle trip through Italy, carrying it in a small bicycle trailer from Sicily in the South all the way to northern Alps. We set it up on street corners and markets along the way. Tourists as well as locals enjoyed the experience of creating interactive art that allowed them to strike up conversations with perfect strangers. And for us, it was a new and intimately immersing way of getting to know the country and its people.
Time-lapse video of the creation of a drawing
Short explanation of the drawing machine in an interview
The machine is still my first choice when exhibiting my work in smaller booths at various markets, parties and exhibitions across Germany. It allows me to not just to exhibit my work, but to share the integral interactivity of it with the people who come to my booth – be that by watching me work its controls or by learning how to create unique drawings themselves. It has served as an exciting experience for families, art experts and interested market-goers alike.
here some drawings of the traveling machine:
the large scaled Drawingmachine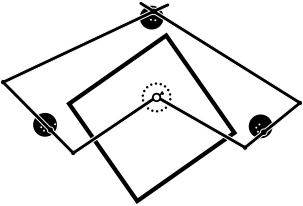 This machine generates abstract drawings at 70 * 70cm by combination of four rotating motions. Three motors control the pen via an aluminium arm construction and another motor rotates the paper. Depending on how these speeds harmonize with each other, various patterns or chaos arise. Each drawing is unique.
here some drawings of the large scaled machine: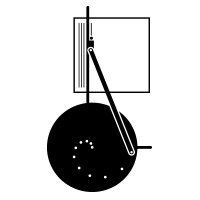 My portfolio consists of some great machines that draw beautiful round images – I love that. However, I needed a contrast and so I developed this machine that creates artwork from straight blades. The pen moves up and down and slowly to the side at the same time. Depending on how these intervals interact with each other, different graphic and architectural compositions are created.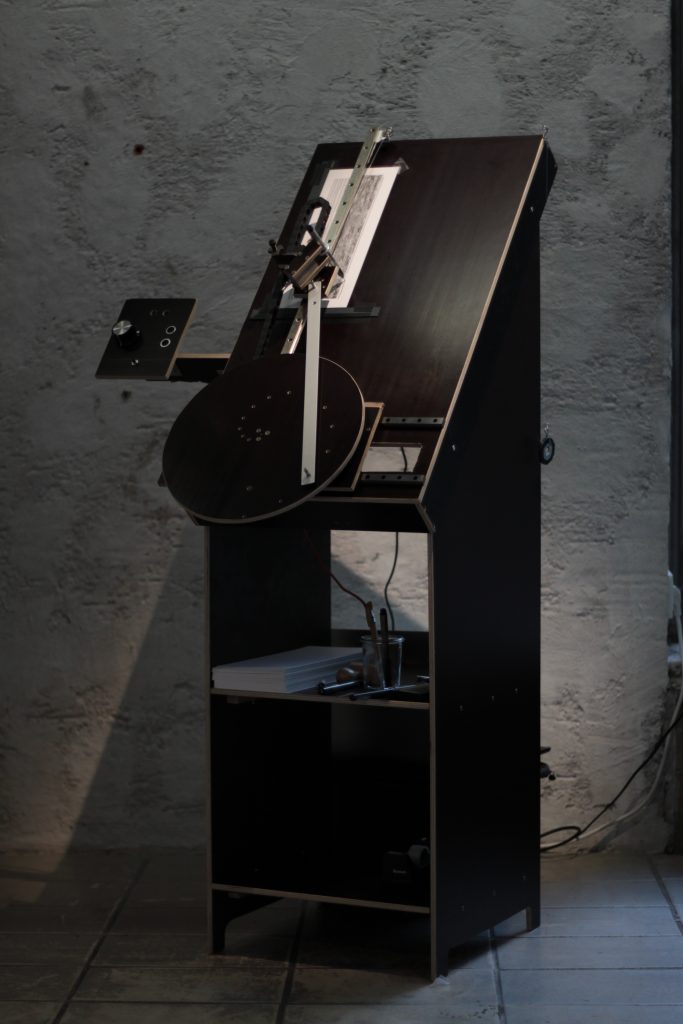 here some drawings of the large scaled machine: